Steve's Debussy Page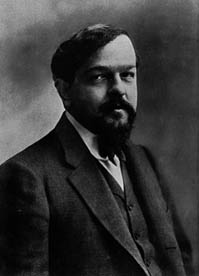 I have a long-time and great love of the works of Claude Debussy. This page will contain information on playing Debussy's piano works and his philosophy of music
---

Analysis of the piano works is now at

If you have a particular interest in one of Debussy's piano works, let me know and I'll try to do it more quickly.
---
Educational Resources - How to play Debussy from Debussy and his Students:
The 1932 tutorial How To Teach and Play Debussy by Maurice Dumesnil
Essays on Debussy's piano playing by Karstein Djupdal
Hear Debussy play his piano works
Free, Downloadable Sheet Music of Debussy's Piano Works
Other resources:
How I approach Debussy's piano works
A detailed Debussy bibliography
Big Event: Debussy International Congress in Austin, TX, Oct. 25-29 2006
---
Please note: I've received many emails asking for recording recommendations. I can't give such recommendations because I can't afford to buy all available recordings so I can't say that one is better than another. Having said that, I find Paul Jacobs' recordings of the
Preludes
,
Images
, and Etudes (apparently out of print) to be better than any I've ever heard.
Finally, I am only an amateur musician who really loves Debussy and occasionally gets to play. I'm flattered to have been mistaken for a professional musician or a music teacher, but I cannot provide technical analysis of Debussy's music. Click on my home page below to see what I really do.
---
Some notable links
Roy Howat, a major Debussy scholar and performer
Drew Le, a fine pianist and Debussy fanatic. Look at his pictures of Debussy's house, or listen to his Debussy recordings.
Claude Debussy - The Musical Impressions, a wonderful and full site
---
thanks to WebCounter