Debussy Plays Debussy
You can hear Debussy playing his own music on the CD Claude Debussy: The Composer as Pianist on the Pierion Recording Society label. You can get this CD from Amazon.com by clicking here.
The bulk of this CD is a modern recording of piano rolls created by Debussy played on a 1923 Feurich-Welte reproducing piano carefully restored by Ken Caswell.
In 1913, Debussy recorded several pieces onto piano rolls using the Welte-Mignon reproducing piano system. This system was capable of recording the pedaling and dynamics of the performer as the performer played the instrument. There were no corrections or editing after the recording. This was the only technology at the time with this capability. Debussy was very happy with the reproduction quality of the Welte system. He went so far as to write to Edwin Welte the following note:
Paris, 1 November 1913

Dear Sir,

It is impossible to attain a greater perfection of reproduction than that of the Welte apparatus.
I am happy to assure you in these lines of my astonishment and admiration of what I heard.

I am, Dear Sir,
Yours Faithfully,
Claude Debussy
This is the only recording Debussy made of his solo piano works. This CD also includes some audio recordings of Debussy accompaning Mary Garden singing Debussy vocal works, recorded in 1904.
This CD provides a primary source for how Debussy interpreted his piano works. I cannot recommend it too highly.
The contents of this CD are
Recorded from the Welte rolls dated 1 November 1913

1. Danseuses de Delphes (Preludes I)
2. La Cathedrale engloutie (Preludes I)
3. La Danse de Puck (Preludes I)
4. Minstrels (Preludes I)
5. Le Vent dans la plaine (Preludes I)
6. La plus que lente
7. La Soiree dans Grenade
8 - 13. Children's Corner, suite for piano (complete)
14. D'un cahier d'esquisses

Audio recording, Mary Garden, Soprano, Claude Debussy, Piano, 1904
15. Mes longs cheveux (Pelléas et Mélisande)
16. Green (Ariettes oubliées)
17. L'ombre des arbres (Ariettes oubliées)
18. Il pleure dans mon coeur (Ariettes oubliées)
This CD is produced by Ken Caswell of Austin, Texas. Ken is an avid restorer of player pianos, and has put great care into the accuracy and fidelity of their musical reproduction. I had the great fortune to spend a day with Ken and to hear his piano in action. Here is a picture of Ken and his restored 1923 Feurich-Welte piano.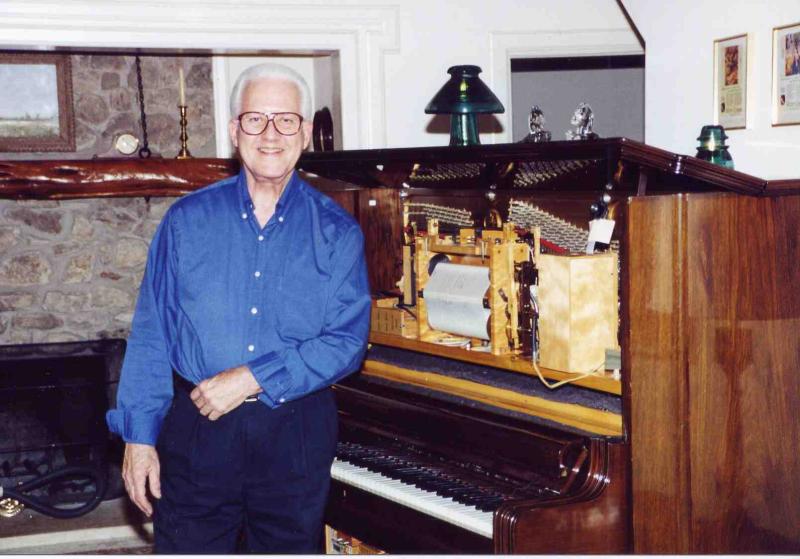 Ken is a wonderful human being.
---